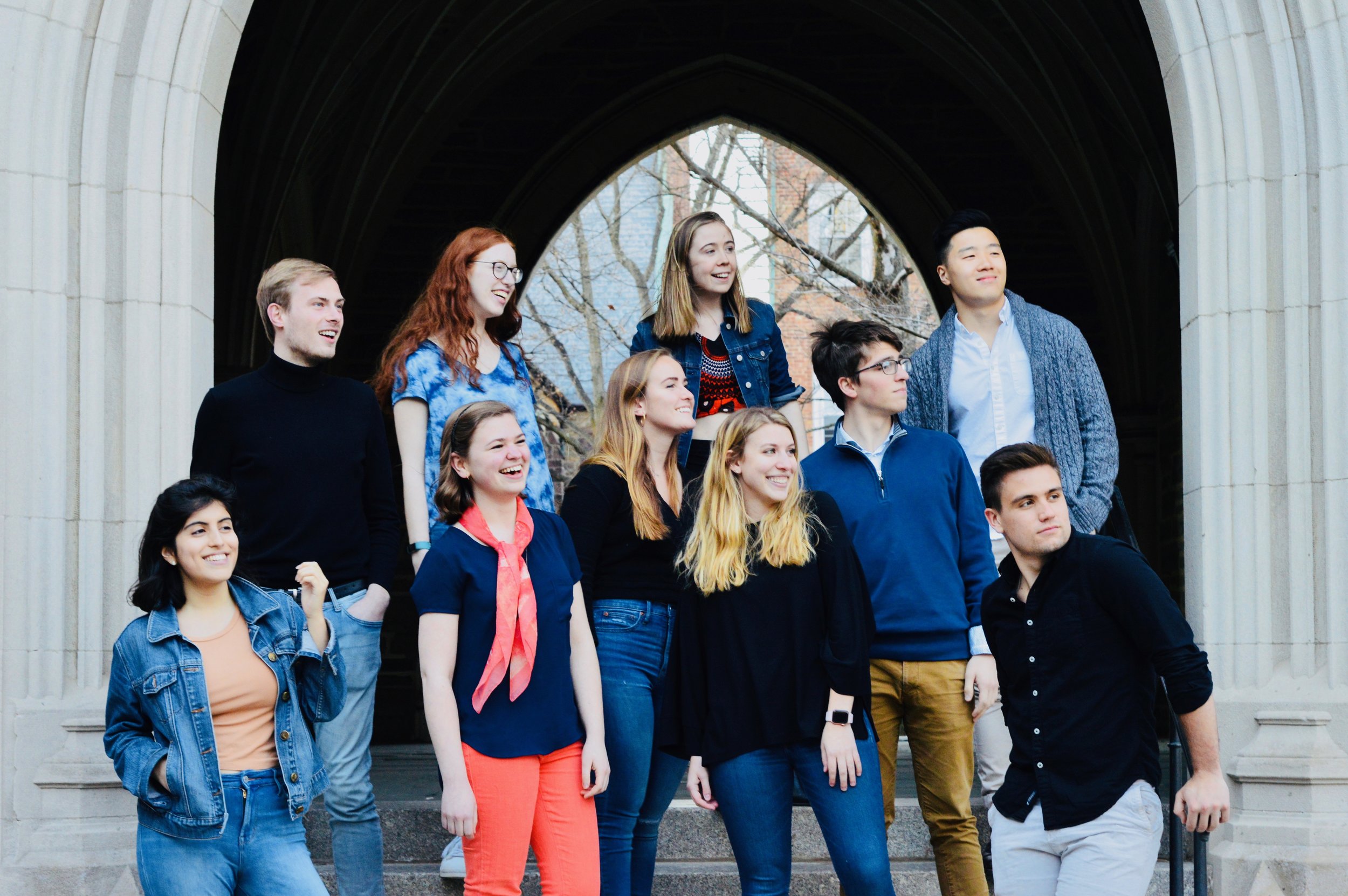 Meredith Hooper '20 is a sophomore majoring in Mechanical and Aerospace Engineering, with certificates in Musical Performance (Vocal Consort) and Materials Science and Engineering. In addition to singing in the Glee Club, Chamber Choir, and Consort Program, she loves to play her cello in Sinfonia. She has a lifelong goal of being able to sing while accompanying herself on the cello, which is rather more difficult than it sounds.
Maddy Kushan '20 prides herself on being Steph Tubiolo's #1 fan and personal assistant. When she's not singing in Glee, Chamber, Chapel Choir, or Decem, she's probably listening to choral music while standing desking in Frist and pretending to do work. She can also be occasionally spotted dissecting brains in PNI as an alleged Neuroscience major or dragging her friends to the basement of Dillon to fight the patriarchy. (Follow her golden retriever on insta @obipuppywankenobi)
Mariana Corichi Gomez '21 is a music major from Morelia, México. In glee, she advocates for the revival of old high school prom photos in listserv emails, and the spread of gluv. Outside of glee, she conducts Camerata an assistant conducts Trego, for which she also curates the daily snacks alongside Stephanie.
Colton Casto '21 is a sophomore from Wilmington, NC majoring in neuroscience with a possible certificate in computer science. Outside of Glee, Colton is involved with Orange Key, Princeton Science Olympiad, and neuroscience research on campus. Colton is also a residential college advisor for Wilson College. In his free time, Colton likes to play sports, watch Netflix, and commiserate with Zoe Kahana '21 (see below) about the lack of sweet tea up north.

TJ Li '21 is a sophomore tenor who likes to say that he's "from the city" despite actually being from Long Island. After starting out as an economics major, he's now studying politics because he didn't realize how many graphs there would be in econ. When he's not singing with Glee, he can be found singing with the Nassoons. Ask him about engineering – he won't know the answer!
Zoe Kahana '21 is a sophomore from Dallas, Texas, and she is most certainly not afraid to let all y'all know. A computer science major with a potential certificate in statistics and machine learning, you can find Zoe writing programs, crunching numbers, and avoiding papers like the plague. Outside of rehearsal, Zoe enjoys occasionally performing in musicals, trying to convince people about the merits of the word "y'all", and complaining about the lack of sweet tea up north.
Ishani Kulkarni '22 is a freshman from Edison, NJ planning to major in Computer Science BSE, with possible certificates in Musical Performance and Statistics and Machine Learning. She is enjoying that #AltoLife and loves hanging out with other gleeple. When she is not singing as an Alto 1 in Glee Club and Chamber, she can be found eating chocolate chip ice cream and binging FRIENDS on Netflix.
Cat Sweeney '20 is a sophomore from Long Island, New York majoring in sociology with certificates in musical performance and ethnographic studies. On Campus, she is a part of the Chamber Choir, Decem, and vice president of the Girl Up Club which advocates for education in developing countries. She is very passionate about music outreach and has worked in arts education departments for Opera America, the Cultural Center of the Philippines, and for the Bayimba Cultural Foundation in Uganda this summer. She also founded the Trenton Youth Singers, a middle school choral program that rehearses every Saturday morning. When she is not singing, she can be found sleeping, binge watching netflix, or listening to classic rock.
Kevin Williams '21, better known as kevinswilliams2021, is a sophomore co-Social Chair of the Princeton University Glee Club majoring in Woody Woo. Aside from singing in Glee, his passions include singing in the Princeton Nassoons, Princeton's oldest acapella group, long walks on the beach, playing club soccer, getting way too excited about everything, and rigging elections to become one of our officers.
Joanna Zhang '21 hails from the land down under where cars drive on the left side of the road and people use the metric system instead of body parts to measure length. She is a philosophy major who finds herself taking too many comparative literature classes instead (hmmmm...) When she is not busy navigating the intricacies of feet, miles, and pounds, Joanna enjoys eating and sleeping, and the occasional socializing. Oh, and by the way, she sings alto II in Glee and Chamber.
Hannah Bein '21 is a freshman hailing from Riverside, Connecticut studying history with a possible certificate in vocal performance. She loves spending her days singing with the Glee Club, Chamber Choir, the Tigerlilies, and the opera company. Outside of rehearsal, you can usually find her reading, listening to Ella Fitzgerald, or doing both at once.
Theo Trevisan '21 is a sophomore from far-away Princeton, majoring in Music Composition and getting certificates in Applications of Computing and Electronic Music. Outside of singing in Glee and Chamber, Theo can be found singing and attempting to conduct jazz with the Katzenjammers, improvising electronic music in PlOrk, and procrastinating endlessly with a combination of Super Smash Bros Ultimate, surreal memes, and rambling about obscure composers.